Dental Implants Longmont CO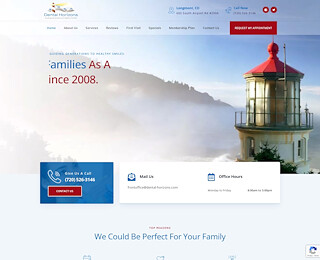 Are you thinking about getting dental implants in Longmont, CO? Dental Horizons can help you super-charge your smile with dental implants. There is arguably no greater solution for missing teeth than dental implants. Why is that? Dental implants are the only solution for missing teeth that replaces the root of the lost teeth. Dentures and other cosmetic solutions for missing teeth merely cover the empty spaces where the teeth used to be. "Well, that's all I need," you might reason. But there are greater reasons to choose dental implants when and where possible. Not the least of these reasons is the risk of losing more of your teeth!
Why Dental Implants are So Strongly Recommended for People with Missing Teeth
When you lose a tooth, you might just think that you've lost a tooth, and that's it. You might not give it much more thought than that. However, over time, the bone in your jaw that once supported the missing tooth begins to absorb. The bone recedes, and the surrounding teeth become loose and fall out. This is why many dental implant patients who have been missing teeth for years need bone grafts before we can perform the implants. Such people have lost too much bone in the jaw, and there is not enough bone left to support a titanium implant.
Dental implants are popular in Longmont, CO because they fuse with the jaw bone, and the bone actually grows around the implant. Therefore, dental implants serve as an anchor for a prosthetic tooth, and they keep the surrounding teeth from loosening and falling out by preventing the deterioration of bone in the jaw.
Do Dental Implant Look and Feel Natural?
Yes. One of the things that dental implant recipients often rave about is that the implants look and feel completely natural. Implant patients don't experience a decrease in bite force, speech challenges, or any of the other complaints that are common with traditional dentures. They just experience a happier, healthier mouth.
Dental implants consist of two parts:
A titanium screw that fuses into the jaw bone
A prosthetic tooth that rests upon the implant
At Dental Horizons, we manufacture our prosthetic implant teeth to match the size, shape, and color of the surrounding teeth so that it looks completely natural.
Schedule Your Appointment if You are Interested in Dental Implants in Longmont, CO
Dental Horizons is highly specialized. We are able to treat the most complicated dental problems. We use state-of-the-art technology and equipment to provide safe and effective dental care. We've provided dental implants for victims of accidents and people with genetic defects to give them a total makeover! We also take care of routine dental cosmetics and checkups, all under one roof!
If you are worried about finances, you don't have to be. We offer flexible, affordable payments through our membership program, and we accept most insurance. We want our patients to smile without the stress. With our state-of-the-art techniques, you'll be smiling all of the time!  
Dental Implants Longmont CO
Dental Horizons
3035363464
600 S Airport Rd, Longmont, CO 80503
View Larger Map